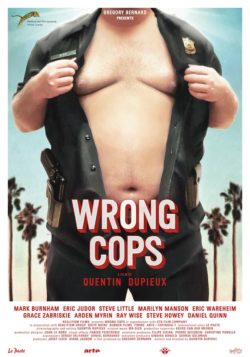 USA/Frankreich/Russland 2013. Regie: Quentin Dupieux. Darsteller: Mark Burnham, Steve Little, Ray Wise, Marilyn Manson, Eric Roberts u.a.
Offizielle Synopsis: "Sie stehen unter Mordverdacht? Na, dann wünschen wir ihnen noch einen schönen Tag!" Nein, um potentielle Verbrecher können sich die Männer und Frauen vom Revier nun wirklich nicht kümmern. Dafür sind sie viel zu sehr mit Drogendeals, Erpressung und Nötigung beschäftigt. Oder damit, Marilyn Manson mit Techno zu foltern. Hin und wieder wird auch jemand erschossen – oder auch nicht. Hauptsache, irgendein Sender im Autoradio spielt Electro und ein gewisses Schwulenmagazin bleibt unentdeckt…
Kritik: Zuerst einmal sei angemerkt, dass die Inhaltsangabe bei Wikipedia komplett auf die falsche Fährte führt – absichtlich, wie ich vermute:
"In the not very distant future, where crime has been completely eradicated, a group of crooked cops look to dispose of a body that one of them accidentally shot."
Dass "Wrong Cops" in der Zukunft spielt, wird ebenso wenig bedient wie die Behauptung, die Cops schlössen sich zusammen. In Wahrheit sind sie perverse, korrupte und egoistische Arschlöcher, die ihre Kollegen mit der gleichen Emotionslosigkeit wie einen Parksünder über den Haufen schießen würden.
Lassen wir die Katze gleich aus dem Sack: Unter dem Strich ist "Wrong Cops" eine spielfilmlange Folge von "Reno 911!" – ohne die Zensurvorschriften von Comedy Central. Zynischer ja, auch etwas brutaler, aber letztlich den gleichen Mechanismen folgend.
Damit ist Dupieux' neuer Film erstaunlich Mainstream und Widerhaken-frei. Mit "Rubber" und "Wrong" war er ja zum Kultfilmer aufgestiegen, da überrascht diese eher eierlose Anbiederung an den breiten Comedy-Geschmack schon etwas. Zumal Dupieux kaum unter dem Druck der Geldgeber gestanden haben kann, denn mit dem verwaschenen SD-Look sieht "Wrong Cops" genau so billig und eigentlich Kino-untauglich aus wie die beiden Vorgänger.
Hinzu kommt die unübersehbare Eitelkeit von Dupieux: Flat Eric, Rubber, Wrong – wirklich alles wird hier in Cameos noch mal referenziert, ohne Grund, nur als banales "schaut mal!". Gleiches gilt für das belanglose Marilyn Manson-Cameo, das nur zustande kam, weil der Musiker unbedingt mal was mit Dupieux machen wollte. Nun hat er. Gratulation.
Fazit: Ein zynisches Potpourri aus Running Gags und Sketch-Vignetten, das in Sachen schräger Subversivität nicht mit "Rubber" und "Wrong" mithalten kann. "Reno 911!" hat das vielleicht etwas harmloser, oft genug aber deutlich komischer gemacht.